Check out our new Bulldog website at:
WE HOPE TO HAVE OUR FIRST FRENCH BULLDOG LITTER ARRIVING IN NOVEMBER 2023! CONTACT US TO BE PUT ON THE WAIT LIST!
All babies have been spoken for. We hope to have another litter of Bulldogs available around spring of 2023.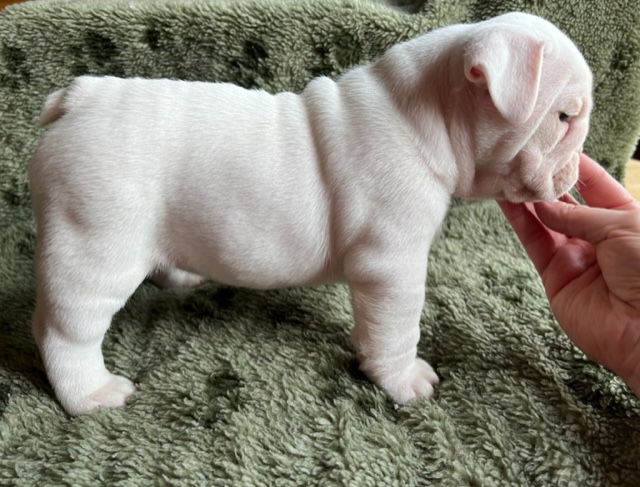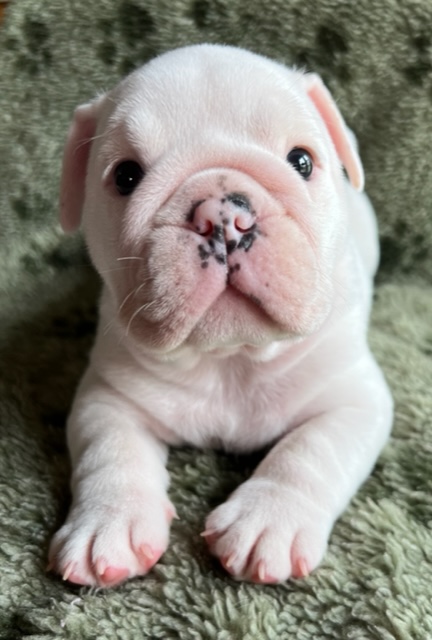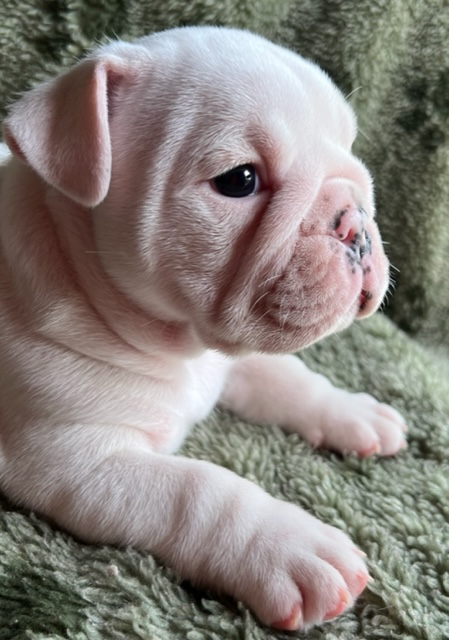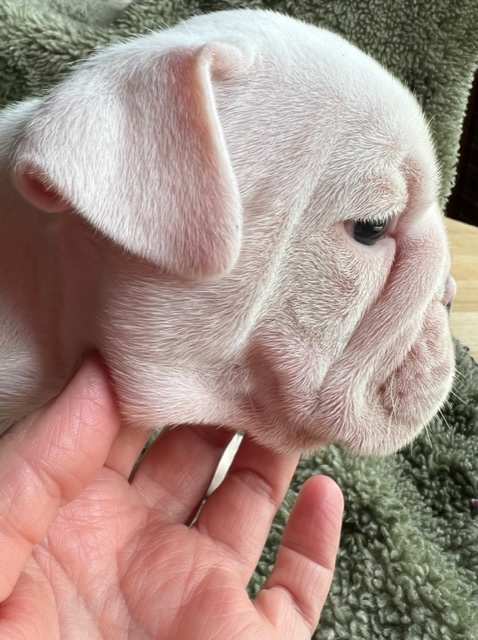 Izzy delivered 5 beautiful babies on 7/14/22! We have two boys and three girls. Contact Jennifer for details. These babies will be ready to leave around 8 weeks of age.
2 - White Females
1 - White Male
1 - Red Brindle and White Pied Female
1 - Red and White Pied Male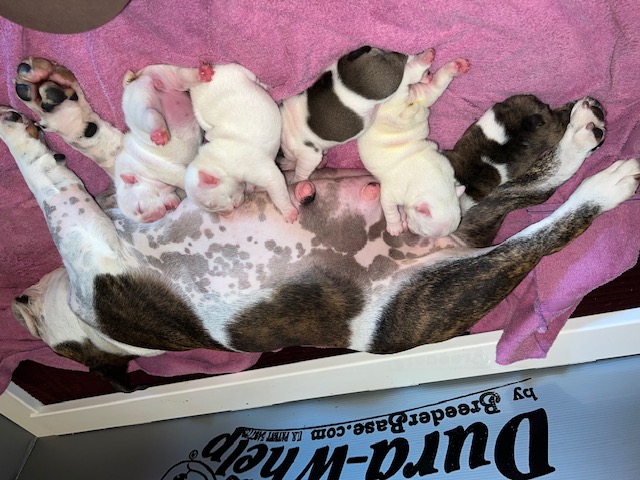 NEW CHAMPION!
ISABELLE HITS THE RING!
Isabelle took her very first point at the Southern Maryland Kennel Club show in West Friendship, MD on Jan. 7, 2018! Not only did she take a point, but she went BEST OF BREED over a Special her very first weekend in the ring! A big thank you to judge Nancy Smith Hafner for recognizing my girl! And, thank you to Steve Stewart and Liz for handling her in the ring this weekend. I have a feeling this little girl is going to be a lot of fun!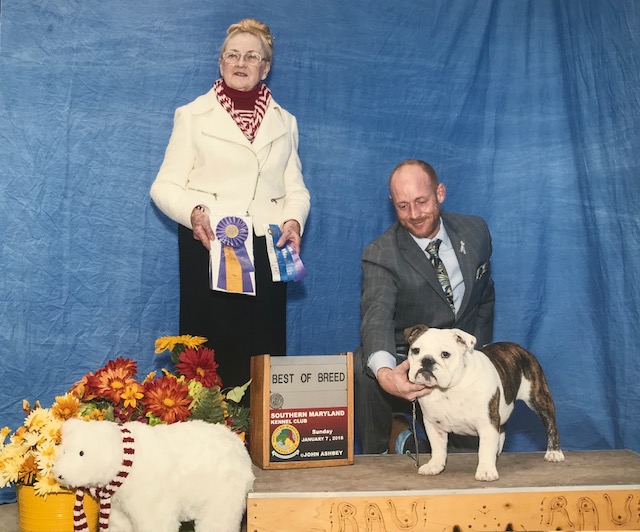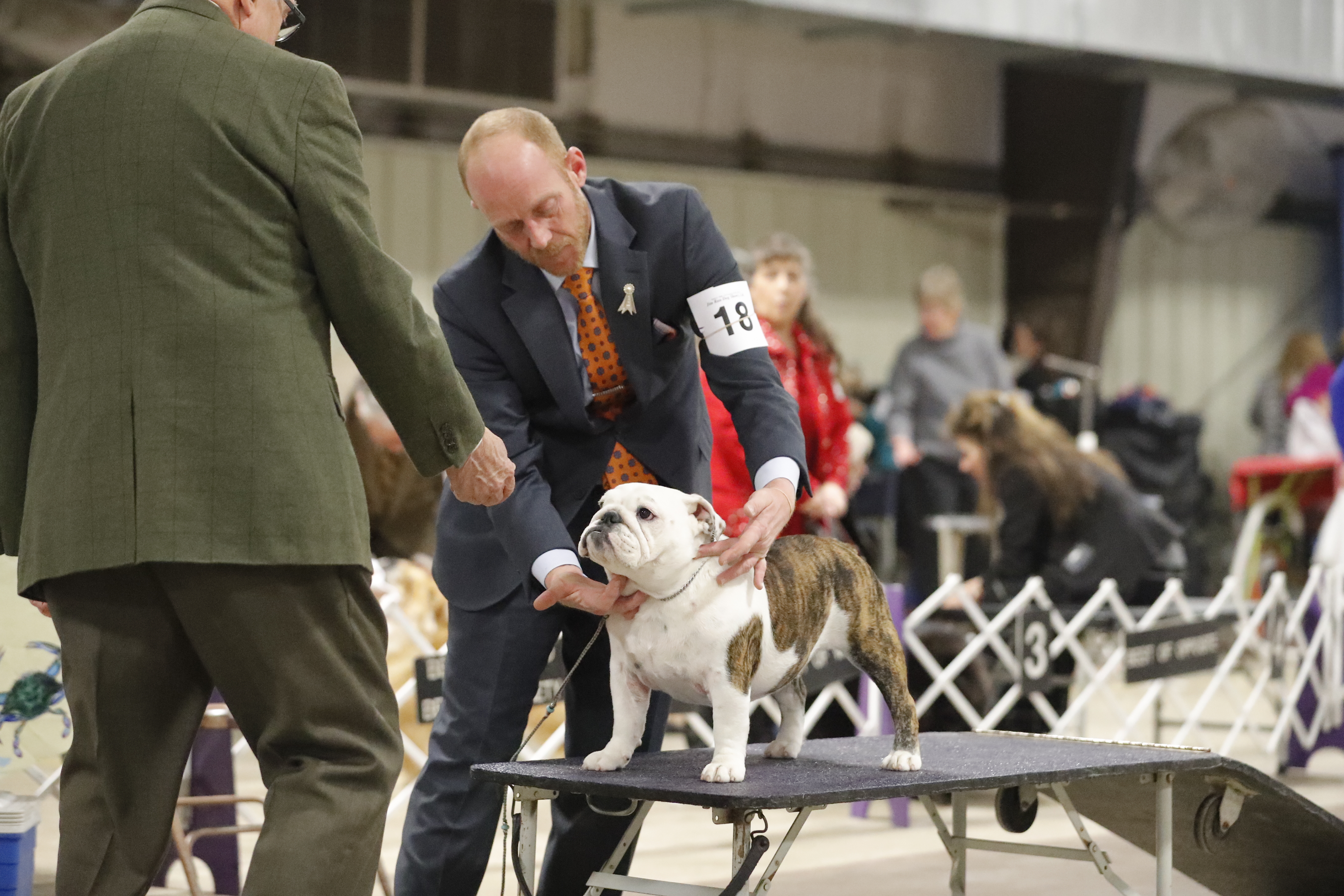 Isabelle takes WB and BOW from the 6-9 month puppy class on January 10, 2017 under judge Charles L. Olvis at the Fredericksburg, VA show for another point. This is only her second weekend out and she's on a roll! Handled by Steve Stewart...pics coming soon....YAY IZZY!
Izzy took Best of Breed from the 6-9 month puppy class on 1/17/18 at the Boardwalk Kennel Club of Cape May County in Wildwood, NJ under judge Victoria Jordan for another point! Handled by Steve Stewart. Show pic coming soon...
And...what a weekend for Izzy! She took back to back Best of Breed wins on 1/27/18 and 1/28/18 at the Charleston Kennel Club show in Sumter, SC under judges Robert Shreve and Christine Calcinari for 2 more points. She also took a Group 4 win on 1/27/18 and a Group 2 win on 1/28/18!! Handled by Steve Stewart.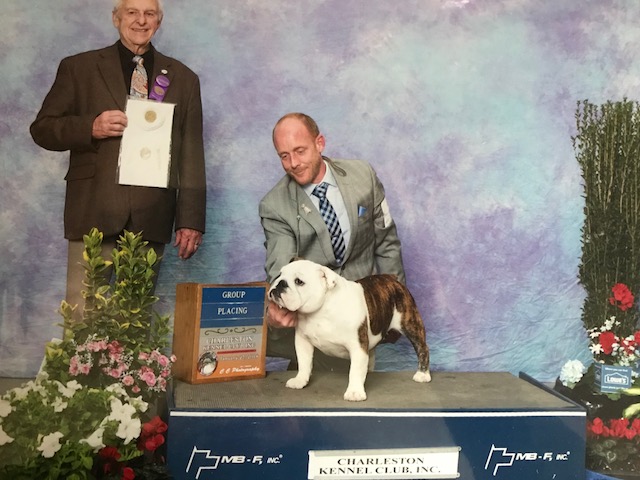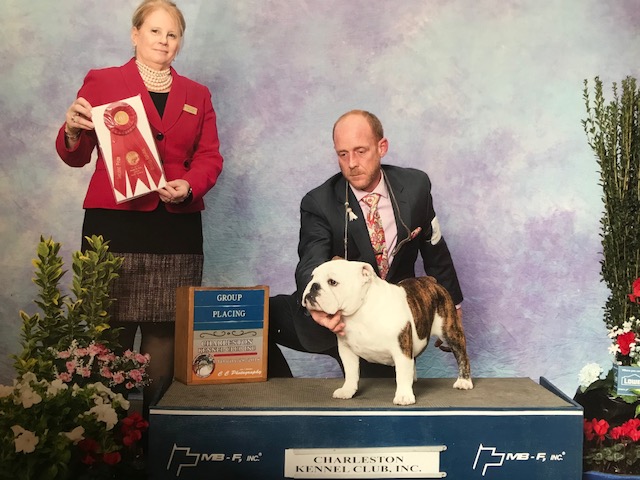 And, another win for Izzy at the Cherokee Rose Cluster in Atlanta, GA on 2/1/18! She took WB/BOW/BOS for 2 pts from the 9-12 month puppy class under judge Elizabeth Muthard. Handled by Steve Stewart. Go Isabelle!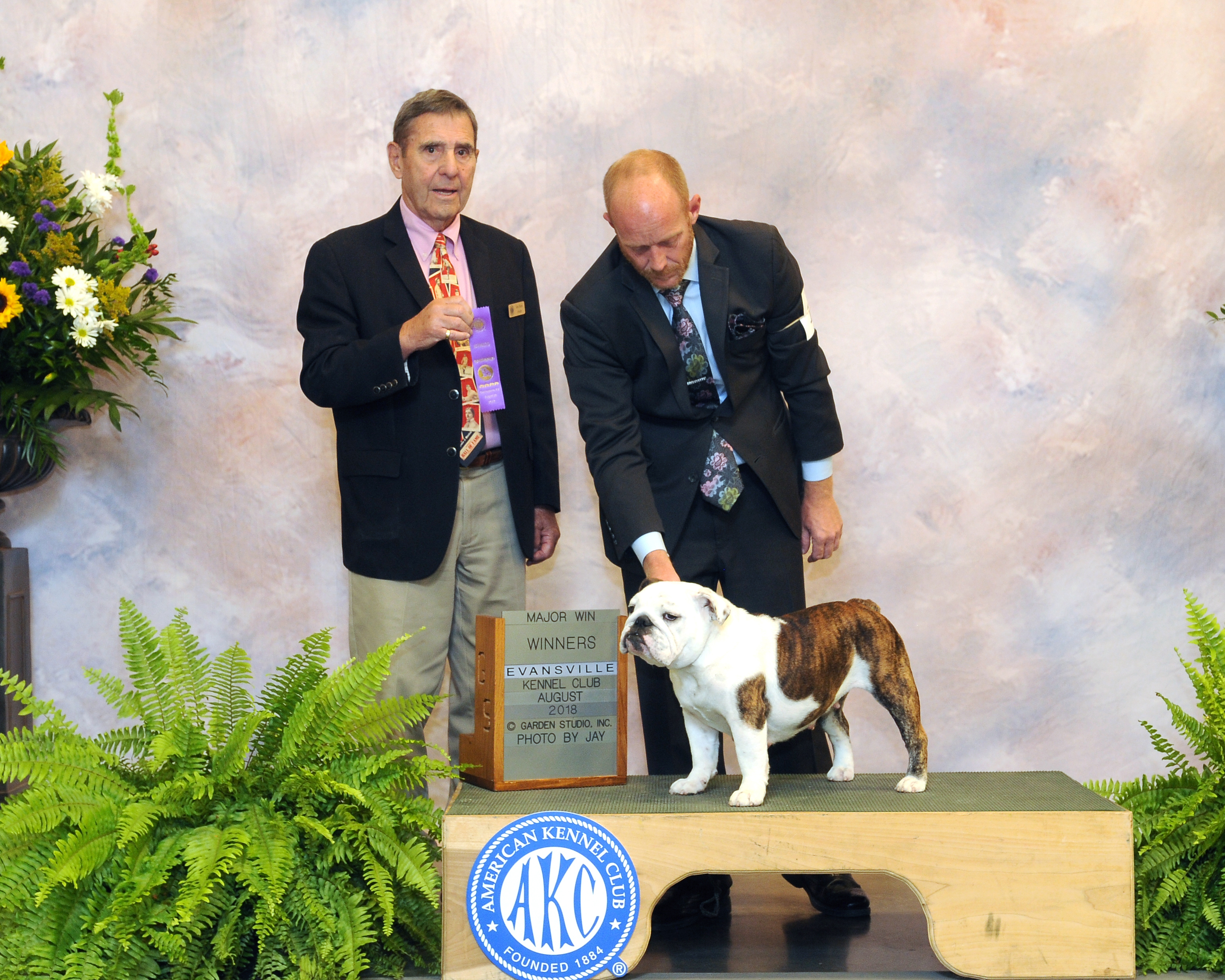 Izzy takes a 3-pt MAJOR win on August 24, 2018 at the Evansville Kennel Club show in Owensboro, KY under judge James J Ham. Expertly handled by Steve Stewart. One more major and she's finished! Go Isabelle!
NEW CHAMPION!!!
Izzy took her final major win under judge Sandy Wheat at the Indy Winter Classic show in Indianapolis, IN on 2/8/19! Expertly handled by Steve Stewart. WhooHoo! Good Girl Izzy! New Champion picture coming as soon as it gets here!
MEET ISABELLE, A.K.A. "IZZY"!
THIS LITTLE GIRL IS THE START OF OUR BULLDOG JOURNEY. A HUGE THANK YOU GOES TO FAYE RICHARDSON OF EMPIRE BULLDOGS FOR TRUSTING ME WITH THIS LITTLE PRECIOUS GIRL! SHE WILL BE MAKING HER RING DEBUT IN A FEW MONTHS, SO CHECK BACK FOR UPDATES AND NEW PICTURES!
Izzy at 5 months old
Izzy's first Halloween 2017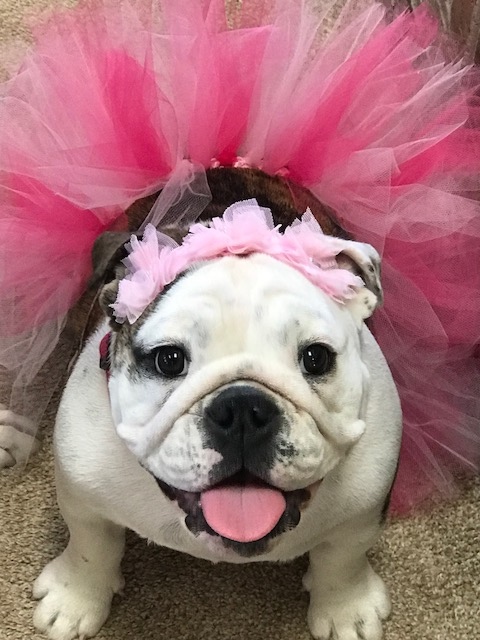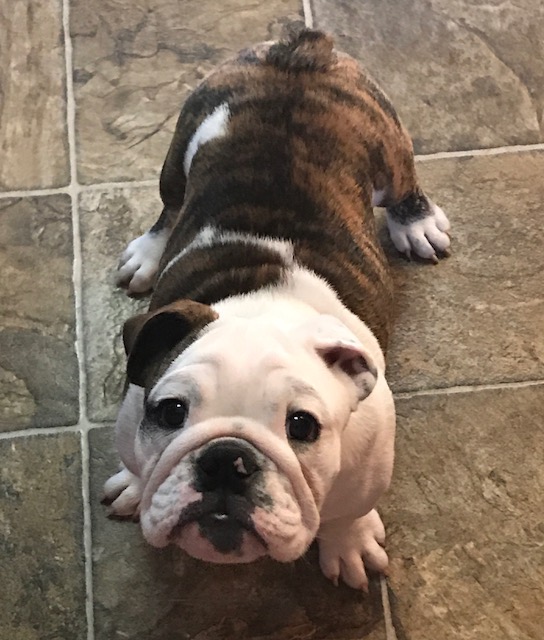 "EMPIRE'S ISABELLE OF WESTPAW"
A.K.A. "IZZY"