NEW CHAMPION!!!!
KRIJGER TOOK HIS LAST NEEDED 3-PT MAJOR WIN ON JANUARY 12, 2019!! HE WENT WD UNDER JUDGE NANCY LIEBS AT THE VIRGINIA CLUSTER IN FREDERICKSBURG, VA. NEW CHAMPION PIC WILL BE POSTED SOON.
BIG DAY FOR KRIJGER! HE TOOK WD/BOW FOR A 3-POINT MAJOR IN LOUISVILLE, KY ON MARCH 16, 2018 UNDER JUDGE ERIC RINGLE AND EXPERTLY SHOWN BY STEVE STEWART. PICS COMING SOON!! GO KRIJGER!!! ALMOST THERE!
AND WE HAVE ANOTHER WIN! KRIJGER TOOK WD ON SEPTEMBER 23, 2017 FOR ANOTHER POINT AT THE CHESAPEAKE VIRGINIA DOG FANCIERS ASSOCIATION SHOW IN CHESAPEAKE, VA ON SEPT. 23, 2017 UNDER JUDGE MARCIA FELD. EXPERTLY HANDLED BY STEVE STEWART.
KRIJGER TOOK WINNERS DOG AND ANOTHER 2 POINTS ON JUNE 2, 2017 AT THE GREATER HICKORY KENNEL CLUB IN CONCORD, NC UNDER JUDGE ROBERT STEIN. HANDLED BY STEVE STEWART.
KRIJGER TOOK W/D FOR 2 POINTS ON MAY 28TH, 2017 UNDER JUDGE WHITNEY J. COOMBS AT THE SPARTANBURG KENNEL CLUB IN FLETCHER, NC. HANDLED BY STEVE STEWART. WHOOHOO!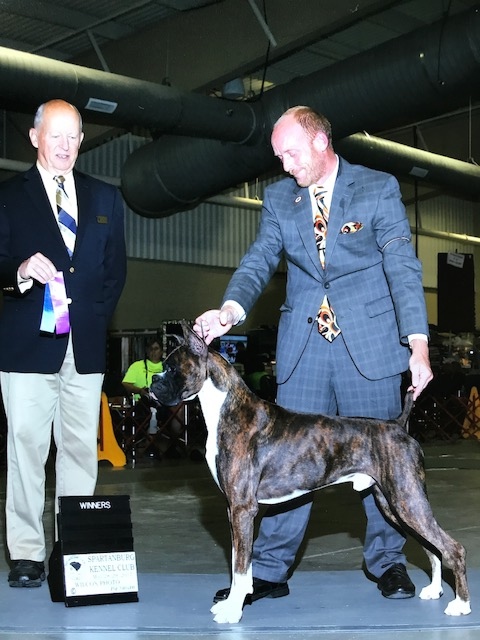 KRIJGER TOOK W/D FOR ANOTHER POINT ON MAY 21, 2017 UNDER JUDGE COL. JOE PURKHISER AT THE MATTAPONI KENNEL CLUB SHOW IN MANASSAS, VA. HANDLED BY STEVE STEWART. WAY TO GO KRIJGER!
KRIJGER TOOK WD/BOW FOR ANOTHER POINT ON MARCH 12, 2017 UNDER JUDGE WALTER SOMMERFELT FROM THE 9-2 MONTH PUPPY CLASS AT THE HARRISONBURG, VA SHOW. HANDLED BY GINA CURRIER AND STEVE STEWART.
KRIJGER JUST TOOK WD/BOW FOR HIS FIRST 2 POINTS ON DECEMBER 9, 2016 UNDER JUDGE GARRY K. NEWTON FROM THE 6-9 MONTH PUPPY CLASS! THIS WAS HIS SECOND WEEKEND SHOWING. THANK YOU JUDGE NEWTON FOR RECOGNIZING MY BOY! AND THANK YOU STEVE AND GINA FOR EXPERTLY HANDLING MY BABY BOY!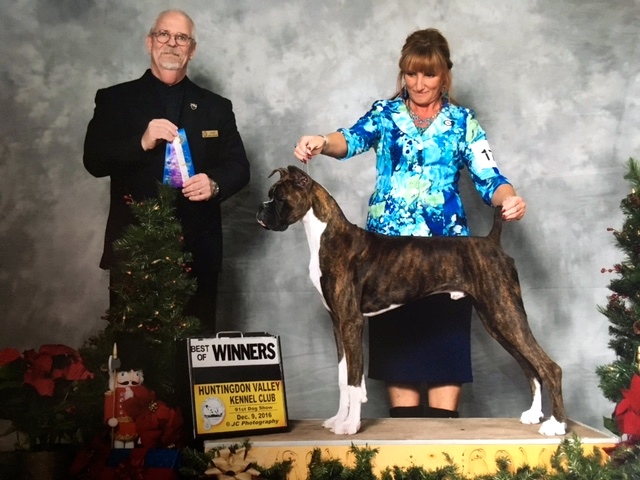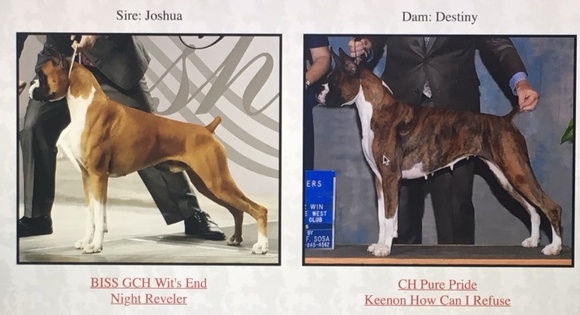 Our newest boy, Krijger
(pronounced Cry-Jur....and is Dutch for "WARRIOR")
will be hitting the ring as soon as he is old enough. More pictures will be posted as he grows. Thank you Steve Stewart and Gina Currier for trusting me with this boy!
He's finally home!....look at this sweet mug shot....8 weeks old.