C.C. took WB/BOS for another point in West Friendship, MD at the Rock Creek Kennel Club under esteemed judge Barbara Dempsey Alderman on Nov. 24, 2017. Handled by Steve Stewart....go C.C.!!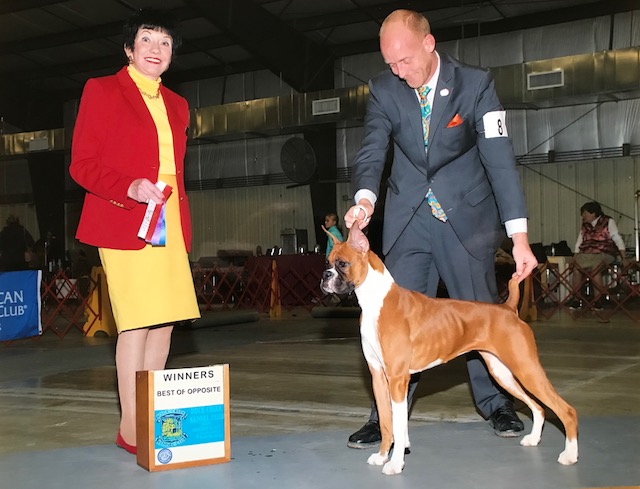 And, yet another win for CC! She took WB for another point at the Springfield MO shows under judge Robert Stein and shown by Steve Stewart.
Another win for C.C.! She took WB/BOW on November 5, 2017 in MN under judge Bryan Myer for another point, handled by Steve Stewart.
C.C. took another win on October 20, 2017 for another point in Cumberland, MD at the Upper Potomac Valley Kennel Club show under judge Elizabeth Muthard. Handled by Steve Stewart. Go CC Go!
Woo-Hoo!.....C.C. took WB/BOW/BOS for her first point Sept. 24, 2017 in Chesapeake, VA at the Chesapeake VA Dog Fanciers Association dog show under judge Michael Canalizo. Shown by Steve Stewart.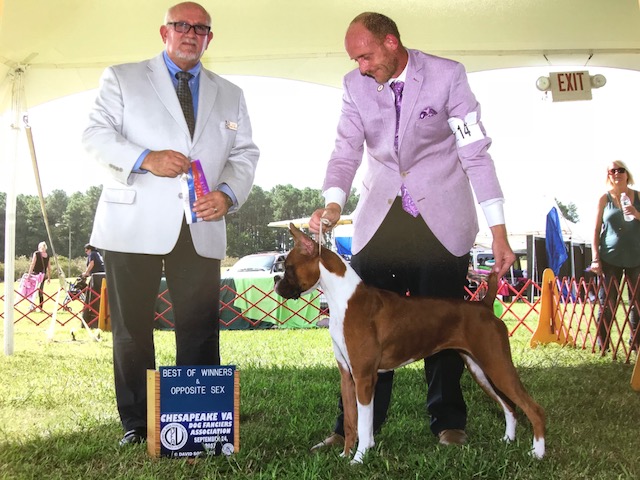 C.C. took Best Puppy and went on to take a Group 3 Puppy win under judge Gary Newton over her first weekend out at the shows Sept 16. 2017! Expertly handled by Steve Stewart.
C.C. is our little Christmas girl! She was born 12/27/16 and is the newest addition to Westpaw Boxers. She is our next show hopeful! Check back for updates and pictures as she grows! She's almost ready to hit the show ring!
PARENTS:
Ch. Sandy Hill's Senior Francisco
X
Westpaw's Talk of the Town
Mommy/Daughter snuggle time....